6 Restaurant POS Features that Improve the Customer Experience
December 11, 2019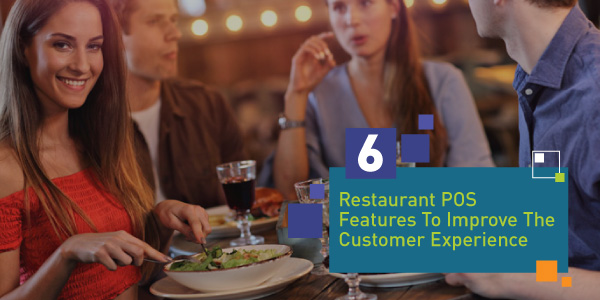 Change is constant, especially when it comes to technology. Your point-of-sale (POS) system should evolve as your customer base transitions into more of a "cashless society." Otherwise, you'll miss out on a huge market and wind up with disappointed guests.
The quality of your restaurant's POS system can make the difference between profit and loss. A bulky or slow legacy system will prevent your business from creating a positive customer experience, so keep up with the business world as it changes.
If it's time to upgrade to a modern point-of-purchase system that improves your guests' experiences, consider these key features:
MobilityStreamlined orderingRefined business workflowCustomer and management metrics.Personalized experienceEnhanced outreach
As a restaurant owner, customer satisfaction should be your number one priority. A modern POS system is an excellent solution to fill any gaps in your business's customer service. Devote enough time to finding the right system with all the features your restaurant needs, and your business will reap the benefits. Let's get started!
1. Increase Your Restaurant's Mobility

A mobile point-of-sale (mPOS) system is great for modern businesses, especially for those that are on-the-go like food trucks and pop-up restaurants. However, a traditional brick-and-mortar location can benefit just as much as a mobile restaurant can.
Staff Mobility
Your mPOS system comes into play as soon as a guest steps through the front door. Without having to step away, your host or hostess can let guests know whether or not a table is available, possible wait times, and table location with help of a table management feature enabled on your system.
When your staff can instantly handle your customers' requests, service will be quicker and more efficient for diners. With an mPOS, your entire staff will be armed with tablets. Servers can place orders through their tablets while still at the table, and the kitchen will instantly receive order tickets, expediting the entire process.
Online Ordering
Many people lead on-the-go lives, so they'll want the ability to place online orders with confidence that their order will be ready when they need it. Traditional systems don't allow you to incorporate mobile ordering and require you to find an alternative way to set it up, like through your restaurant's website. On the other hand, a modern POS system typically allows you to more easily integrate mobile ordering into your existing operations.
Even when you do have mobile ordering enabled, you face the possibility of shopping cart abandonment, which is when potential customers load up their online carts and then vanish. This is usually the result of a slow system with minimal payment options and an overall poor user experience. Swoop's guide to avoiding this phenomenon will help you pinpoint and fix your mistakes.
2. Streamline the Menu Order Processing

Improved payment processing is a huge selling point for a POS system, so make this one of your main priorities. Your guests will strongly appreciate the quick, seamless process.
Fast, Secure Payments
One of the biggest benefits of a modern POS system is fast payments, but this means nothing if card information isn't protected. Customers won't want to place orders if they're unsure if their payment information is secure, so make sure to find a system that offers data encryption, tokenization, and EMV chip card technology as well as user authentication (learn more here).
Your system should also accept multiple forms of payment, including:
Credit/Debit cardsCashChecks
Your online orders should accept cards, Paypal, and cash payments in-store at time of pickup. The payment process is typically the last impression your guests have during their visit, so don't make them wait around. Make sure they have a smooth and uninterrupted experience.
Receipts
Many businesses today are taking advantage of electronic receipts. Still, you want the option to print receipts, but more often than not, consumers will opt for eReceipts. Not only does this save you money on receipt paper, but it also prevents guests from having to take tangible receipts that they will either lose or toss away.
When tax season comes around, your business will find it much easier if most of your sales data is compiled electronically. Additionally, your mPOS should allow customers to sign electronically, saving you even more time at checkout.
3. Refine Your Restaurant's Business Workflow

Your employees' promptness can be a defining factor in your guests' experience and, therefore, in your business's success. A modern point-of-purchase system can quicken your restaurant's workflow and ultimately bring in more business.
Decreased Service Errors
With a streamlined communication system for your employees, you'll run into less overall mistakes. Not only can these errors frustrate your employees, but they can anger your customers, too.
With features like online shift scheduling, you'll likely never be left shorthanded, allowing your staff to work more efficiently and effectively. Managers can even monitor workflow and pinpoint where the most mistakes are being made.
Staff Training & Maintenance
Implementing a new POS system can be tricky for your staff, especially for new employees. Don't waste time by waiting for a costly trainer to show up in person. A modern system should come with a free video database that teaches the ins-and-outs of your technology. Your employees will navigate the system with ease, and your guests won't run out of patience waiting on proper customer service.
Even with a high-functioning POS system, it's inevitable; it will glitch eventually. Traditional legacy systems require an on-site technician which can take days or even weeks. Opt for an mPOS system that offers remote maintenance, so you can keep all your payment terminals up and running for faster service.
4. Analyze Guest & Restaurant Management Metrics

The right POS system can give you powerful insights as to who your customers are and what their preferences are. Best of all, these metrics are updated in real-time, allowing you to access and analyze your business practices as they happen.
Restaurant Inventory Management
Having a point-of-purchase system that tracks your inventory in real-time allows for smoother operation all-around. Servers will be able to instantly notify your diners when particular items are 86'd.
With low-stock notifications enabled, your servers will stay up-to-date on what dishes your kitchen can currently create. This way, they can avoid making promises to fulfill customers' requests, only to find out that the kitchen can't prepare their orders.
Smart Reports
When you have a system that generates smart reports, you can avoid human error and don't have to waste time manually entering data.
You can use the data to learn more about your guests by tracking individuals' trends and behaviors over time. For instance, if you're using Lavu's bar POS, you can keep track of what drinks your customers have ordered during their past visits. Your employees will shock your repeat guests when they can instantly recall their past orders.
Smart reports make it easy to analyze your real-time data in an engaging way. Depending on your preferences, you can choose to see straight data or view it in a more visually appealing way, like graphs and charts.
5. Create a Personalized Guest Experience

A great advantage modern POS systems have over traditional legacy systems is the ability to customize your guests' experiences.
Restaurant Rewards Programs
Go beyond gift cards with a customer loyalty program! It can increase your customers' satisfaction by providing repeat guests with special discounts or VIP services. It reinforces their behavior and keeps them coming back for more!.
Modern mPOS systems even allow guests to manage their accounts and see how close they are to receiving their next free meal or drink. That way, you can digitally keep up with individuals' progress without having to rely on old-fashioned, easily-manipulated punch cards.
Optimized Customer Service
Customer service is more than just a warm smile and a wave. It's a complicated process that can be simplified with the right POS system. When your system integrates with HR data, you can determine the best approach to handling sticky situations on an individual level, instead of having the same exact response to every consumer with a similar issue.
Customer service has a direct impact on sales, so don't choose a system that lacks in customer insight. Remember, a happy customer is a loyal customer!
6. Enhance Your Customer Outreach Strategy

Outreach to individual guests can be time-consuming but worthwhile. When you invest in a system that allows you to streamline your customer outreach, you establish a strong line of communication between you and your guests, and you minimize the amount of time it takes to create loyalty.
Email Marketing
This ties into creating a personalized customer experience. Overly-promotional email marketing messages often pile up in customers' inboxes. Guests miss out on important product and event announcements, and, in turn, businesses miss out on revenue opportunities.
When you can personalize your email marketing strategies to target the intended audience, you enhance your marketing efforts and will likely catch the eye of a handful of customers who you wouldn't have otherwise engaged.
POS systems that tie into your restaurant's marketing efforts can often make it easier to track guests' spending habits at your business, giving you insight into the best communication strategies. That way, you can reach out to customers with personalized information about new products and offers that will be of interest to them, rather than bombarding their emails with unexciting information.
Your POS system can make a substantial difference in your business's success. Don't limit yourself with a traditional, bulky legacy system. A modern POS system gives you limitless options to improve your guests' experiences.
Customers will appreciate the increased options an mPOS system has to offer, so go ahead and make the switch today!
The post 6 Restaurant POS Features that Improve the Customer Experience appeared first on Creative Restaurant Marketing and Promotion Ideas.
Read more:
nextrestaurants.com
A quick note about the reviews I do on this site. The product vendors may give me access to their products for free in order for me to do my review, alternatively, I may have bought the product myself. However I make no promises to vendors regarding what I write in my review. Should you click a link that takes you to a sales page for a paid product for sale this link will be an affiliate link and I will be paid a percentage of the sales price should you decide to invest in it.