4-Step Restaurant Survival Guide During This Pandemic
July 2, 2020
Off
By
Eddie Editor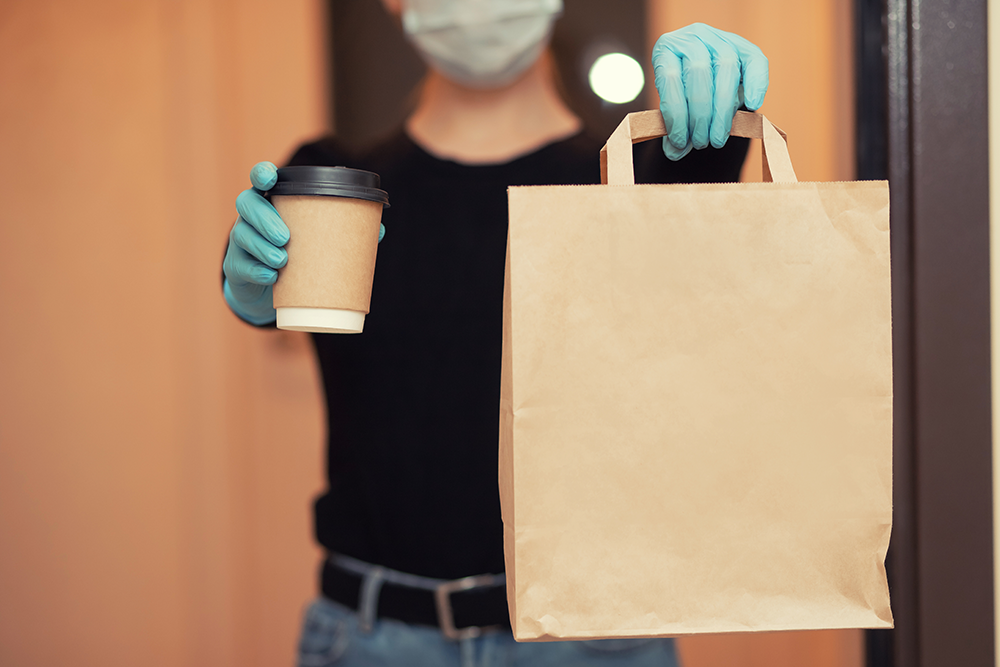 By Denise Langenegger, Contributor
No one could have predicted how massive the pandemic impacted the food and hospitality industry. Restaurants have been hit especially hard. Owners are faced with the challenge of keeping their business alive even amidst limited gatherings, quarantines, curfews, and the fear of infection.
We've put together an easy-to-follow four step restaurant survival guide to keep your restaurant alive and running during this pandemic. Remember, people still need to eat.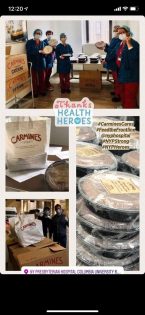 @carminesnyc reposted customer content on their Instagram Stories to highlight their charitable efforts during the pandemic Advertise & Promote Your Restaurant on Social Media
Social media channels like Instagram are more important now than ever. Social media brings people together over distance across the world or even just a few blocks away. According to a report by marketing research firm Nielsen, there has been a 15% increase in social media app usage since the pandemic. So, save on your marketing budget and use social media marketing tools for best results on social media.
Use this time to modify your social media plan. Don't just post drool-worthy food photos of your takeout menu items (still do though!), but add a human element to your brand. Share photos of your delivery team picking up orders, happy customers ordering takeout, and your staff making sure your restaurant is extra clean. Don't forget to utilize Instagram Stories to share user-generated content (UGC). This shows your restaurant's personality and reminds customers that we're all in this together.
Takeout & Delivery is Paramount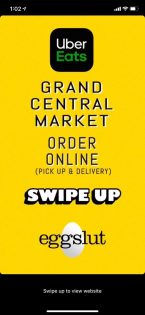 Eggslut informs customers that you can order their egg sandwiches on UberEats
We're four+ months into this pandemic, so we're sure you've already figured out a way of including takeout and pick-up as part of your business.
Takeout and delivery should be your first plan of action when diners do not want to risk eating at your restaurant or when dine-in is not an option due to policies in your city. Through takeout and delivery, you are able to feed your loyal diners and serve the community around you. It enables you to earn income, help pay your employees, and continue to make the food you love.
When implementing takeout and delivery, reinforce cleanliness and disinfection throughout the purchase journey. You can implement a cashless system, curbside pick-up, and diligent use of sanitizer, gloves, and face masks. If you allow limited dine-ins at your restaurant, this process will give peace of mind for customers.
To make a smoother pivot, utilize third-party delivery platforms like UberEats, Grubhub and Doordash. These third-party services allow for new customers to discover your restaurant and will handle the delivery for you. Not only that, they help limit person-to-person contact and allow you to trace every purchase and every person who steps into your restaurant to pick up food.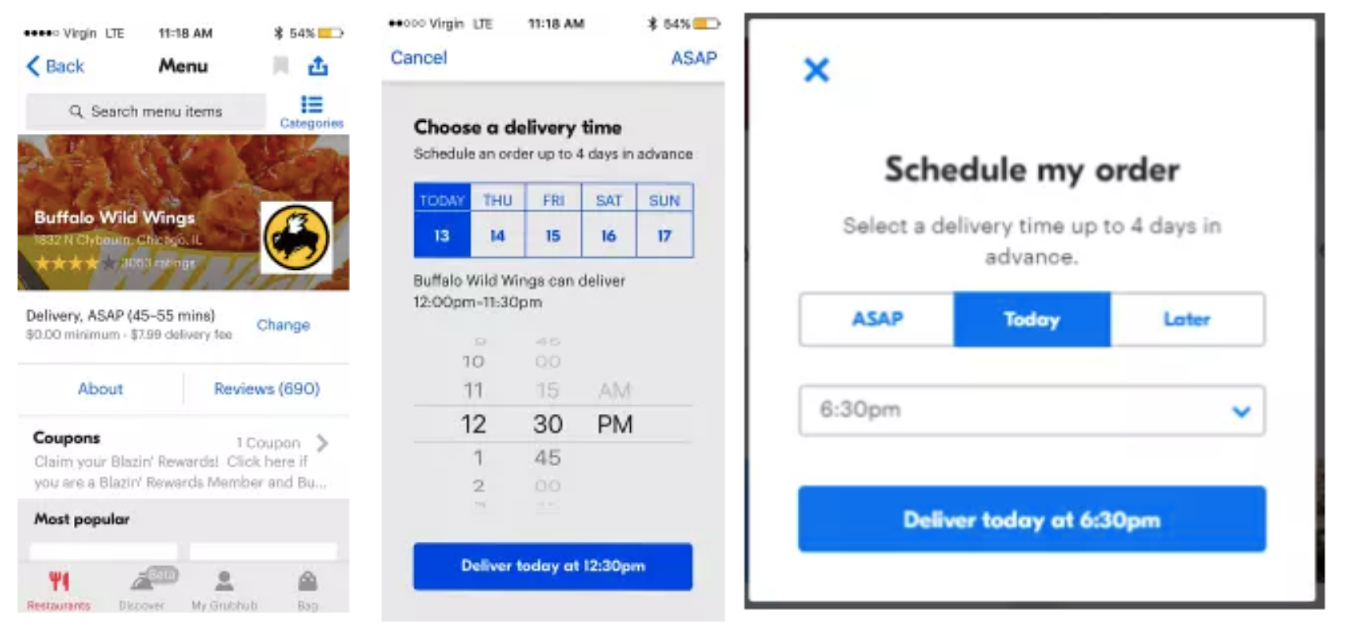 Restaurants enable customers to schedule deliveries and takeout through Grubhub Connect with Your Guests Online
Good customer service is one of the key selling points of a restaurant. While you can't provide warm face-to-face customer service to your customers like you used to, you can still connect through your online channels.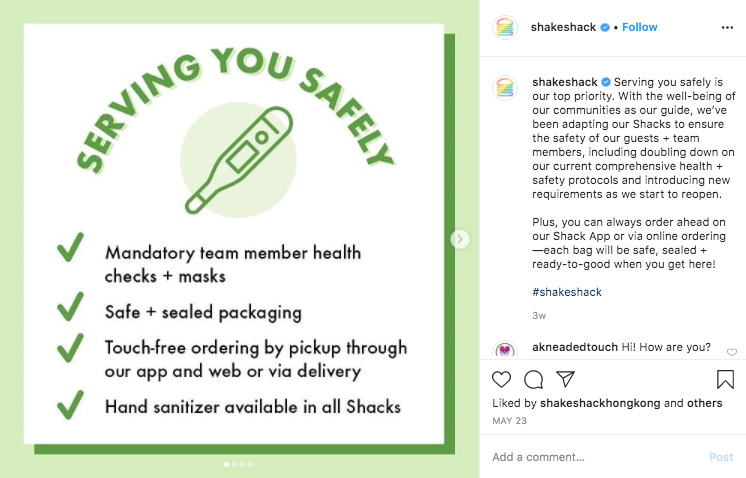 @shakeshack shares their restaurant safety plan through Instagram
One mode of communicating is through social media. You can post announcements for new opening hours and temporary closures on Facebook or Instagram. It is also an important platform where you can inform your guests and followers about the safety and cleaning measures you're implementing as a sign of reassurance. Make sure to reply swiftly to customer queries and comments online.
If you're looking to spice up these announcements, look to use tools, like Made, to transform simple announcements into engaging stories.
Momofuku uses their Instagram Stories to tell a story about how they use umami.
Another mode of communicating is through email. Build an email list of your existing and new customers if you have yet to do so. Then send regular emails of announcements, new menu, items or promotions. Email is a more personal way of communicating with customers. Add a personal touch by individualizing emails to each customer.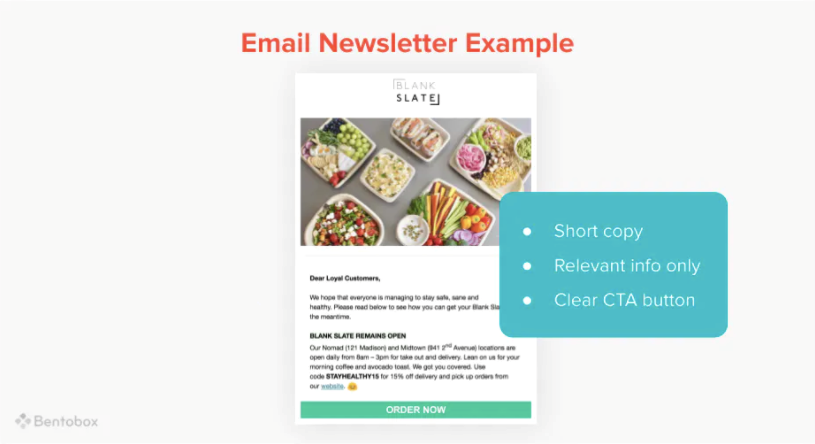 Bentobox shows how Blank Slate uses email newsletter to highlight their best offerings
Use online channels to inform your guests when their food is being prepared and delivery is on the way for a smooth online customer experience.
Adjust Opening Hours & Your Restaurant's Menu
This period of massive changes in the food and hospitality industry is the best time to reassess your business and trim the fat. Study your menu and figure out which items are popular and cost efficient. Drop high-cost-low-profit items and retain fast-moving items whose ingredients are affordable and in-season.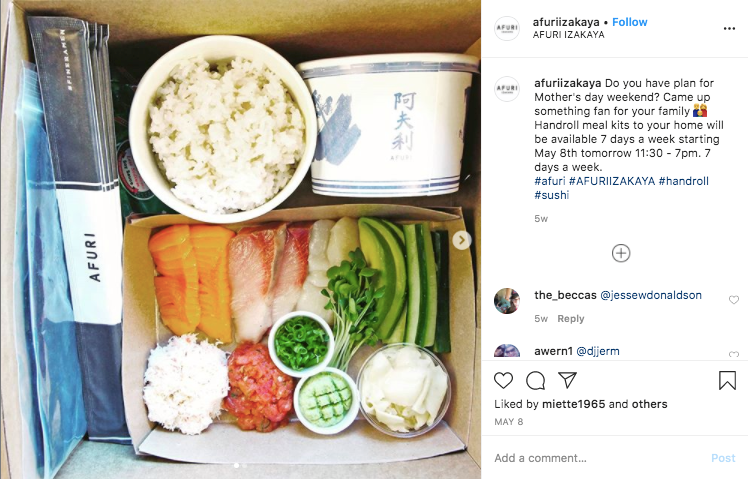 @afuriizakaya prepared sushi Handroll kits for Mother's day weekend.
If your dishes permit, create take-home meal-prep kits for customers. Food is always best freshly-made so put together ingredients, include instructions, and send these to your diners to prepare at home.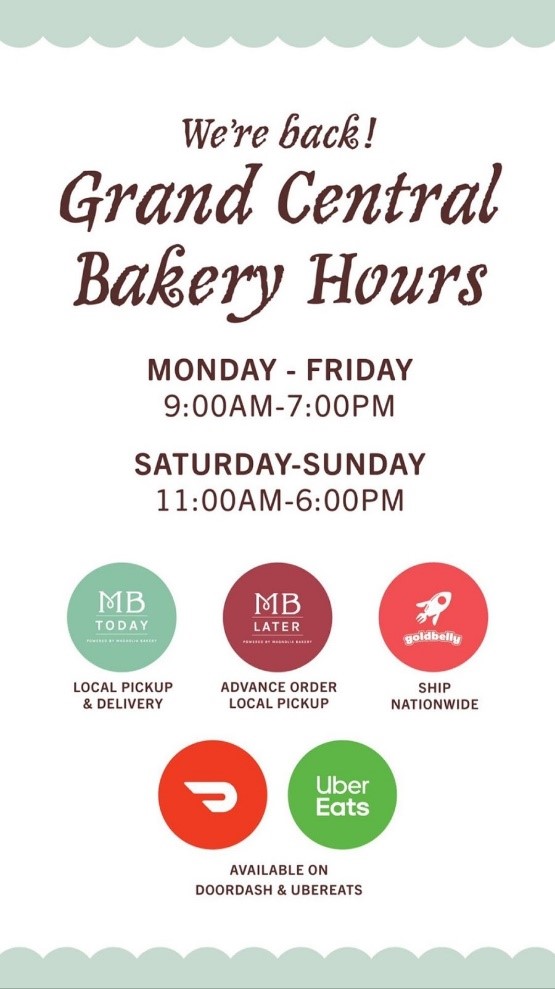 @magnoliabakery adjusted their opening hours and announced it via Instagram Stories
As you move into a takeout and delivery system, adjust your opening hours to save on electricity cost and minimize risk of infection. Review past transactions to decipher peak order hours to run your business surrounding busy times of day.
Another way to save on costs is to close on slow days. With every new change, announce these on social media so that customers are aware.
It may look like a lot of work to keep your restaurant alive during this pandemic. The key is being resilient. Bring your team together and work on your game plan to reboot your restaurant. Reach out to other small businesses near you, learn how they plan to open shop and start a support group to keep your businesses alive. Once this pandemic is over, the food industry will not just be alive, but it will thrive.
About the Author: Denise Langenegger is part of the team at Instasize – a content creating tool kit for anyone editing photos and online content on mobile. Instasize is an easy-to-use editing tool will cut down your time for producing beautiful content and will level it up from the standard effects offered by Instagram. You can download the app for free on the App Store or Google Play Store. Don't forget to use the hashtag #SupportSmallBusiness.
The post 4-Step Restaurant Survival Guide During This Pandemic appeared first on Creative Restaurant Marketing and Promotion Ideas.
Read more:
nextrestaurants.com
A quick note about the reviews I do on this site. The product vendors may give me access to their products for free in order for me to do my review, alternatively, I may have bought the product myself. However I make no promises to vendors regarding what I write in my review. Should you click a link that takes you to a sales page for a paid product for sale this link will be an affiliate link and I will be paid a percentage of the sales price should you decide to invest in it.